The sixth training course of the ICRISAT-Center of Excellence in Genomics Application of Genomics Technologies in Plant Breeding sponsored by the Department of Biotechnology (DBT), Government of India, will be held from16 to 27 November at the 212 CF Bentley Conference Center in Patancheru. Twenty-nine participants from ICAR Institutes, Government Organizations, State Agricultural Universities, Private Sector, Regional Research Stations and six overseas participants from Botswana, Ethiopia, Kenya, Nigeria and Tanzania will participate in this two week course.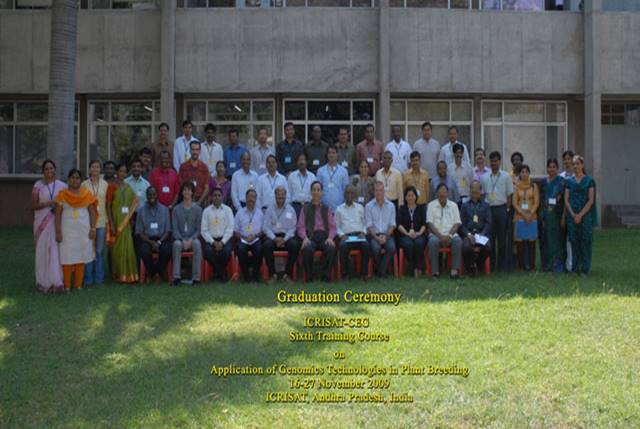 The DBT is supporting 21 Indian scientists, while 4 African participants are supported by Kirkhouse Trust (UK), HOPE and ICAR Projects are supporting 3 scientists and the lone participant from Nigeria is self supported.
This course will cover experimental design, molecular diversity assessments to gene/trait mapping, association mapping and analysis and marker-assisted breeding. The participants will have hands-on experience on use of several genomic data, analytical tools and software. The course also includes several lectures and demonstrations on genomics technologies and related fields from both external and internal resource persons from the Global Themes Biotechnology and Crop Improvement.
More details about the course can be obtained at www.icrisat.org/ceg or by contacting Rajeev Varshney (2305) or KDV Prasad (2367).
Source: ICRISAT Happenings