Sixth ICRISAT CEG Course
Participants trained: 28 representing 7 countries Botswana, Ethiopia, India, Kenya, Morocco, Nigeria and Tanzania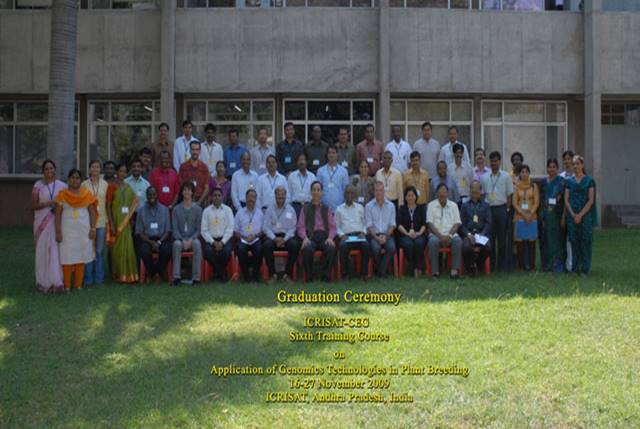 The Sixth ICRISAT-CEG training course on Application of Genomics Technologies in Plant Breeding started on 16th November 2009. A total of 28 participants representing 7 countries Botswana, Ethiopia, India, Kenya, Morocco, Nigeria and Tanzania participated in this course. The Director General Dr William Dar, in his message read by Rex Navvaro, Director, Communications and Special Assistant to DG, emphasized the need of modern genomics tools to improve agriculture to help the poor people of the SAT regions. He emphasized "The Institute uses promising genomic tools and approaches for the genetic improvement of its mandate crops (pearl millet, sorghum, chickpea, pigeonpea and groundnut), with the larger goal of reducing poverty, hunger, malnutrition and environmental degradation in the semi-arid tropics." Dr Dar also pointed out that selection based on DNA analysis of the plants takes less time compared to the conventional selection process. He appreciated that ICRISAT's CEG has the capacity to generate about one million marker data points per year. According to Dr Dar the newly-launched Platform for Translational Research on Transgenic Crops with the support of Department of Biotechnology, Government of India, will study potential genetic engineering options and then advance them to meet specific objectives in agriculture. Use of molecular methodologies to enhance precision and efficiency of breeding strategies for crop improvement is more important and required especially in context of the current challenges such as climatic change, erratic rain fall, land degradation, malnutrition and population explosion that international agricultural community is facing. Dr Rex Navarro explained the need for such type of learning courses in India highlighting how a researcher can use the molecular markers in their crop improvement programs even without generating data in his/her lab. Dr Mike Butterfield, Global Theme Leader, Biotechnology welcomed the participants and provided a brief account on research activities of Global Theme–Biotechnology and emphasized the importance of such training courses. Dr V Balaji, Global Leader, Knowledge Management briefed about the Knowledge Management activities of ICRISAT while Dr Rosana Mula, Coordinator, Learning Systems Unit shared ICRISAT's philosophy on capacity building of national partners through such courses and hosting students and visiting scientists from Asian and African countries. Rajeev Varshney, Course Coordinator, provided an overview on requirement and importance of the course in accelerating the marker adoption in breeding programs in developing countries.
In addition to ICRISAT/CEG scientists the four resource persons Dr BM Prasanna, ICAR National Fellow, IARI, New Delhi; Professor EA Siddiq, National Professor and Distinguished Chair, CDFD; Dr Joy K Roy, Scientist, National Botanical Research Institute, Lucknow; and Professor M Maheshwaran, Professor (Plant Breeding and Genetics), Centre for Plant Breeding and Genetics, Tamil Nadu Agricultural University, Coimbatore India delivered the lectures and demonstrated the use of genomics tools for the benefit of the course participants.
The course concluded with the Graduation Ceremony on 27 November 2009 in which the participants received certificates from the Dr William Dar, Director General and Prof EA Siddiq. Participants thanked ICRISAT for their selection and organizing this training course, acknowledging the support of Department of Biotechnology, Government of India. Dr Dar, on this occasion, thanked all participants for their participation in course and emphasized the importance of enhancing the capacity building and important of such courses and outlined the challenges the agricultural scientific community need to address in future. He also advised the participants to keep in touch with ICRISAT for any kind of help. Dr Butterfield encouraged the participants to follow-up on this course after going back to their institutes. Professor Siddiq advised the trainees to develop project proposals in collaboration with ICRISAT and encouraged to use the CEG facilities. Dr Rajeev Varshney highlighted that some trainees were already collaborating with the institute in recently approved DBT proposal on chickpea network. Dr Rajeev Varshney appreciated the hard work of the participants and emphasized the value of the training course in enhancing the skills of our partners in India and Africa. Dr Varshney mentioned that participants should not consider that with the concluding session of the course, the relationship of participants with ICRISAT is ended, rather this is the start of relationship. He also encouraged the participants to get in touch with ICRISAT for any clarifications on the training aspects and the tools they learnt and insisted the participants they ICRISAT made a note of their constructive suggestions and will implement in future training course, if feasible. Dr CLL Gowda, Global Theme Leader, Crop Improvement requested the participants to apply and disseminate the knowledge they gained from this course. Dr Balaji emphasized the role of ICRISAT in training activities and strengthening the capacity of our partners.
Dr Rajeev Varshney thanked contribution of colleagues for this course from global themes on Biotechnology and Crop Improvement like Mike Butterfield, Tom Hash, Vincent Vadez, Hari Upadhyaya, Pooran Gaur, L Krishnamurthy, Abhishek Rathore, S Senthilvel, T Nepolean, Trushar Shah, Santosh Deshpande, KDV Prasad, Muralikrishna, Seetha Kannan, Punna Ramu, Mallikarjun, Anil Kumar, Sravani, Romadas, NarsiReddy and Abdul Gafoor and collaborators like B M Prasanna (IARI), EA Siddique (ANGRAU), J K Roy (NBRI) and T Maheshwaran (TNAU). Financial support from Department of Biotechnology, Government of India, Kirkhouse Trust (UK) and HOPE project of Gates Foundation was gratefully acknowledged by Rajeev Varshney.