Seventh ICRISAT CEG Course
Participants trained: 23 representing 4 countries Burkina Faso, Nigeria, Saudi Arabia and India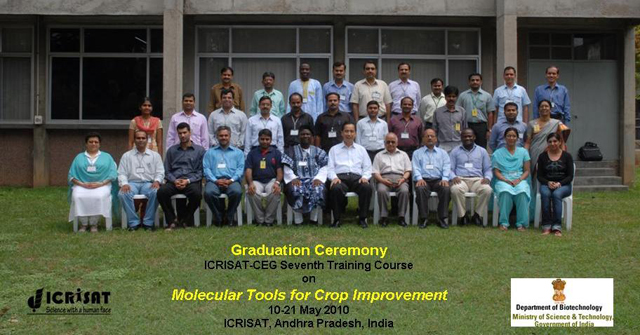 The seventh Center of Excellence in Genomics (CEG) training course on Molecular Tools for Crop Improvement was held during 20-12 may 2010. This capacity building program is a part of ICRISAT's continuous efforts to fulfill the vision of the CEG. This will make it possible for agricultural breeding and research programs, initially in India but ultimately in many other parts of the world, to fully utilize modern molecular genome analysis methods. CEG is actively engaged in programs on research, services and capacity building. The course was organized in such a way that the participants will actually 'use' molecular markers without laying hands on the marker technology. The other important focus is on data analysis and the use of the genotyping data rather than generation of the data. The course was planned to address the requirements of the users of Genotyping Service Labs. The course had lectures and demonstrations on marker-based diversity assessment, gene/quantitative trait locus (QTL)/trait mapping and marker-assisted breeding. Hands-on-training was given on use of softwares for different applications such as diversity analysis, construction of genetic linkage maps, QTL mapping based on purpose-created populations and as well as decision support systems. A total of 23 participants representing 4 countries Burkina Faso, Nigeria, Saudi Arabia and India participated in this training course.
The Director General Dr William Dar in his inaugural message highlighted that molecular tools can improve the efficiency of conventional plant breeding by allowing indirect selection for a trait of interest by looking for molecular markers linked to the particular trait. Molecular tools offer greater scope to assess the genetic diversity and to evaluate plant genetic resource pools; they can also facilitate the transfer of desirable genes among plant varieties. Dr Dar also emphasized the importance of biotechnology and modern techniques in developing improved varieties in general and ICRISAT's mandate crops in particular. "Battling the scourges of poverty and malnutrition is going to become more difficult as increasing food prices, high population growth rates, land degradation, and climate change rage all around us to make up the perfect storm. Extraordinary scientific and technological advances are required to enhance humanity's toolkit for confronting these challenges," he continued. Addressing the participants as 'warriors' of biotechnology, he advised them to disseminate the knowledge downstream. Molecular genomics can revolutionize breeding and research, for which scientists must be allowed to focus on the research problem. CEG is enabling this by making highly sophisticated research equipment available to the participants. DDG-R Dave Hoisington termed the course as an important initiative to enhance the skills of the molecular breeding community in India and other developing countries, and said that the participants should look beyond ICRISAT's mandate crops for future applications of their newly acquired skills.
In addition to ICRISAT/CEG scientists/ staff, six resources persons Professor RP Sharma, former Director, National Research Centre on Plant Biotechnology of Indian Council of Agricultural Research, Professor PK Gupta, Honorary Emeritus Professor and NASI Senior Scientist, Chaudhary Charan Singh University, Meerut, Uttar Pradesh, Professor EA Siddiq, National Professor, Biotechnology Unit, Acharya NG Ranga Agricultural University, Hyderabad; Dr Pawan Kulwal, Associate Professor, Mahatma Phule Krishi Vidyapeeth, Rahuri, Maharashtra; Dr T Nepolean, Senior Scientist, Division of Genetics, Indian Agricultural Research Institute, New Delhi and Dr Raman M Sundaram, Scientist, Biotechnology Laboratory, Crop Improvement Section, Directorate of Rice Research, Hyderabad delivered the lectures and demonstrated the molecular tools for crop improvement for the benefit of the course participants.
The course concluded with the Graduation Ceremony on 21 may 2010 in which participants received certificates and course material from Dr William Dar and Professor PK Gupta. Participants thanked ICRISAT for their selection and organizing this training course, and acknowledged the support of Department of Biotechnology, Government of India. Dr Dar on this occasion, thanked all the participants for their participants in course and emphasized the importance of developing human capital and networks, requested to disseminate the knowledge gained through this training in their parent institutions to accelerate the crop improvement programs. He also advised the participants to keep in touch with ICRISAT for any kind of help in future. Dr Rajeev Varshney, Course Coordinator thanked all the participants and resource persons and asked the participants to explore the possible of future collaboration with the institute by developing project proposals of mutual interest. He updated the group that with this course now CEG has imparted training to 160 NARS scientists including 20 from African and Asian countries other than India.